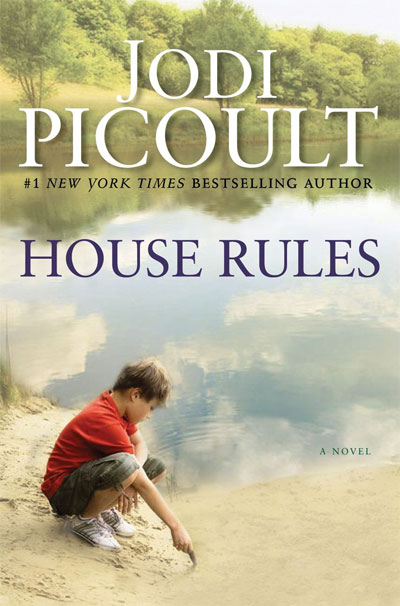 Title:
House Rules
Author:
Jodi Picoult
Format:
PB
Pages:
532
Genre:
Fiction
Publisher:
Washington Square Press, 2010
ISBN-13:
978-0743296441
Series:
Stand Alone
Favorite Quote:
Jacob stares right at me. It hurts. It actually hurts. "House rules," he says simply. "Take care of your brother: he's the only one you've got."
Synopsis (PBS):
Jodi Picoult wraps another stirring melodramatic plot around a misunderstood modern affliction in this tale of Jacob Hunt, an 18-year-old murder suspect who has Asperger's Syndrome. — Jacob's mother Emma and his little brother Theo have gradually become reluctant satellites of Jacob and his condition, forced to make unwanted adjustments t
o their own lives in order to better suit his needs. Jacob is obsessed with forensic science, and has the odd habit of appearing at crime scenes and bombarding the investigators with unwanted advice. At the sight of one particularly heinous crime, Jacob's criminal insights prove to be a bit too precise, and he is soon charged with murder. The situation is compounded when Jacob's lack of emotion, his social awkwardness, and his involuntary tics are read as the callous reactions of a psychopath.

Emma's only hope of saving her son lies in the hands of a young attorney who must not only combat the prosecution's convincing evidence, but also his own client's tendencies to make himself appear guilty.
Review:
Wow. Just wow. I remember now why Jodi Picoult is one of my favorite authors. I didn't really know much about Asperger's Syndrome, but I certainly feel like I do now. I knew the reason Jacob did what he did before it was revealed, but it didn't take away from the story one bit. The characters are all great. I especially liked the older brother, Theo, and the police officer, Rich. But, my favorite was the lawyer, Oliver. Really, this is just a fabulous story with plenty of emotion and action and all the things that make a story great. Ms. Picoult never disappoints.
Rating: 8.5 / 10