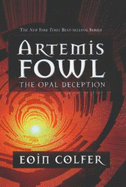 Title:

The Opal Deception
Author:

Eoin Colfer
Format:

HC
Pages:
339
Genre:
Fantasy
Publisher:
Miramax, 2005
ISBN-13:
978-0786852895
Series:
Artemis Fowl, Book 4
Favorite Quote:

Butler smiled apologetically. "Don't worry, little fairies. I have this effect on most humans too."
Synopsis (PBS):
Criminal mastermind Artemis Fowl is back... and so is his brilliant and dangerous enemy, Opal Koboi. At the start of
The Opal Deception
, Artemis has no memory of the fairy people and has returned to his unlawful ways. In Berlin, he is preparing
to steal a famous Impressionist painting from a German bank. He doesn't know that his old rival, Opal, has escaped from prison by cloning herself. She's left her double behind in jail and, now free, is exacting her revenge on all those who put her there, including Artemis. Meanwhile in the lower elements, Captain Holly Short of the LEPrechon fairy police is framed for a heinous crime, yet she manages to elude her captors and escape to the surface to rescue Artemis. But before Holly and Artemis can get away, Opal arrives and abducts them both, forcing Artemis to go head to head with an enemy who plans on destroying the fairy world forever.
Review:

I still love this series. The characters are so memorable and the story line is really original. There are plenty of great morals and values to be learned here for children, even though it is about a teenage thief who is a genius. All of these books so far have been clean enough to be read by just about any age.
I just am not enjoying them as much as I was when I started, although I liked this book better than the last one. It's not that there is anything wrong with these stories. They are great, but they are written for young readers and I need something more adult at least temporarily. I'm ready to read something else for a little while. I'll come back to this series soon enough, but for now I'm done.
Rating: 9 / 10